In the ever-evolving landscape of American pop music, Zoey Tess stands out as a fresh and vibrant talent. With her captivating vocals and innate songwriting ability, this young singer-songwriter is making waves in the industry. Born on January 1st, 1993, in Coconut Creek, Florida, Tess embarked on her musical journey at the tender age of twelve. However, her ties to the entertainment world run even deeper, as she is the niece of the legendary film and television actress, Corinne Camacho.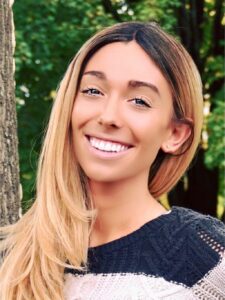 Tess's early years were marked by a nomadic lifestyle as her family moved around Connecticut, eventually settling in Southbury. Despite the constant change, she remained dedicated to her musical pursuits. At the age of four, Tess began studying piano, performing in recitals and showcases across Connecticut and New York. She expanded her repertoire, delving into violin and classical voice, all while nurturing her passion for acting and dance.
During her formative years, Tess's talent blossomed under the guidance of esteemed mentors. Cynthia Servetas, an opera singer and graduate of the Manhattan School of Music, became her vocal instructor in middle school, refining her skills and nurturing her potential. Additionally, Tess's enrollment at the prestigious Interlochen Center for the Arts further honed her musical theater talents, as she delved into singing, acting, and dance in both solo and ensemble settings.
The Journey Begins: A Rising Star Emerges
Tess's journey towards musical stardom took a significant leap forward during her high school years. Under the tutelage of Marko Lampas, a protégé of the renowned opera singer Maria Callas, Tess studied voice in New York City. Her dedication and talent earned her a coveted spot in The National Youth Choir, where she had the opportunity to perform at Carnegie Hall, a landmark achievement for any aspiring artist.
Education played a vital role in shaping Tess's growth as an artist. She attended various schools in Connecticut, including St. Jude Catholic School, Long Meadow Elementary School, and Memorial Middle School. For her freshman year of high school, Tess enrolled at Rumsey Hall, a private co-ed school in Washington Depot. However, to pursue her burgeoning music career, she transitioned to homeschooling and continued her education online through The Keystone School.
Unveiling a Captivating Sound
Tess's musical journey took a leap forward in 2017 when she began collaborating with songwriter Christy Thompson and record producer Michael Patzig at Moomba Studios in Connecticut. This experience paved the way for her partnership with record producer Vic Steffens of Horizon Music Group, who has worked with music icons such as The Rolling Stones and Harry Connick Jr.
In 2019, Tess signed with Horizon Music Group, a subsidiary of Sony Records, providing her with a platform to showcase her unique sound. Throughout her career, she has continued to refine her craft, collaborating with acclaimed producer and multi-instrumentalist Jake Siberon. The release of her single 'Human Nature' in 2023 showcased her growth as an artist, further solidifying her position in the music industry.
A Source of Inspiration: Remembering Corinne Camacho
Tess draws inspiration from her late aunt, Corinne Camacho, a prominent television actress known for her roles in shows like "Little House on the Prairie" and "Days of Our Lives." Camacho's illustrious career and kind-hearted nature have left a lasting impact on Tess. She aspires to follow in her aunt's footsteps, not only in terms of talent and success but also in embodying kindness and generosity.
Beyond the Stage: A Life of Meaning
While Tess's music takes center stage in her life, she also dedicates her time to causes close to her heart. She cherishes her role as an advocate for animal welfare and actively volunteers at local animal rescue organizations. Her dedication to protecting and defending animals reflects her compassionate nature, extending her influence beyond the realm of music.
Embracing Love and Happiness
In 2023, Tess tied the knot with her partner, Jay Bennett, in a joyous celebration of their love. The couple, residing between Palm Beach, Florida, and Newtown, Connecticut, enjoys exploring the world together, creating cherished memories along the way. With their lovable pomeranian-bichon frisé named Sophie by their side, they embrace a life filled with love, happiness, and shared adventures.
A Bright Future Beckons
Zoey Tess's talent and dedication have propelled her onto a promising trajectory in the music industry. With a remarkable journey behind her and a passion that fuels her every move, Tess is ready to captivate audiences with her mesmerizing sound and heartfelt lyrics. As she continues to evolve as an artist, her ability to blend genres and forge her own path will undoubtedly solidify her place among the music industry's brightest stars.
To stay updated on Zoey Tess's musical journey and upcoming releases, visit her official website or follow her on social media.
Quick Facts
Name: Zoey Tess
Birth Date: January 1, 1993
Birthplace: Coral Springs, Florida, United States
Occupation: Singer-songwriter
Years active: 2017–present
Husband: Jay Bennett
Known for: "Turn Me Up"
Genre: Rhythm and blues, Soul music, Pop
Education: Rumsey Hall SchoolNet Worth: Not published


Disclaimer: The net worth information has not been disclosed publicly.