Mizanur Rahman Azhari is one of the most popular Islamic scholars and preachers in Bangladesh. He is a highly educated person who completes his high-level education from Egypt Al-Azhar Islamic university. He is the idol of different ages of people for his speeches. He is living now outside of Bangladesh, He is now in Malaysia. He is doing a Ph.D. there. He was born and raised in Dhaka, Bangladesh. He was born in 26 January, 1990. He is very proficient in Bengali, Arabic, English. That is why people from different countries can understand his discussions. His research discussions have made him popular. Azhari was married on 29 January 2014. He has two daughters. His father is a teacher of a madrasah.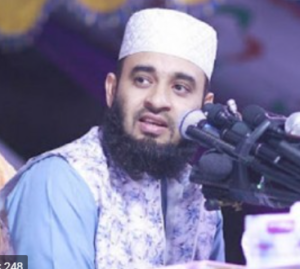 Full Name: Mizanur Rahman Azhari
Nick Name: Azhari
Birth Date: 26 January 1990
Age : 29 Years ( as 2020)
Birth Place: Dhaka, Demra
Hometown: Muradnagar, Kumilla
Profession: Islamic Scholar
Years active: 2016-present
Nationality: Bangladeshi
Religion : Islam
Height: 5'6"
Weight : 75 Kg
Hobbies : Reading, traveling, speaking.
Favorite food : Rice, Biryani, Arabian food.
Favorite color : Blue, black, white and yellow
Hair Color : Black
Eye Color : Dark
Marital Status : Married
Wife : Mrs Mizanur Rahman
Children : 2 Daughters
Religious information –
Era : Modern
Title : Sunni
Etymology : Hanafi
The main interest : Tafsir, Hadith, Fiqh
Significant work :Tafsir mahfil
Mizanur Rahman Azhari is one of the greatest preachers of Bangladesh. He invited the people of Bangladesh to Islam. He is widely known and at the same time criticized for his outspoken Islamic discourse, which is an attractive Islamic discourse for young people in Bangladesh. In various speeches, he claims to be a moderate Islamic negotiator.
Education –
Azhari was very bright student from his childhood. He got GPA-5 in class eight examination in 2004 from Darul Jannat Siddiqia Kamil Madrasa, Dhaka-Demra. He also got a golden GPA-5 in alim madrasa examination in 2006. In 2007 Islamic foundation organized competition by Egypt government. Mizanur participates in this competition and wins the number one position. Then he got a chance to study in Egypt Al-Azhar Islamic University.
After getting a chance, he Immediately moves to Egypt for an undergraduate. From the Department of Tafsir and Quran Science, he got honors in 2012 with 80 % CG-PA.
He is now doing his P.H.D in Malaysia.