Lamar Alexander Raglin (Born July 29th, 1988) Lexington, Kentucky Native, Is a digital content
creator for his entertaining funny videos. He's also known as MarMarEntertainer on social media
platforms as TikTok, Instagram, ect. as his stage name.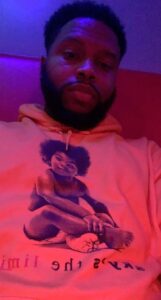 Story
Grew up on a farm with his dad, three brothers and his immediate family on the outskirts of
Fayette/Woodford County borderline. Lamar was far from a city boy. Lamar's mom lived in the
inter city of Lexington, Kentucky where he spent some time with her during the summer's of his
childhood that was the closest thing to being a city boy for him. Lamar's grandfather on his
father's side uprooted his family from Scott County, Kentucky out to the country of Woodford
County, Kentucky in the 1970's Making Thomas E. Raglin (Lamar's grandfather) One of very
few African American to own farmland in Woodford County.
Early Years:
As a kid Lamar played youth football, basketball and ran track where he was very active and
athletic as a kid.
Lamar started learning that he was funny and very entertaining as a kid in Elementary School as
other kids rallied around him looking for laughter and expecting a silly sound from him.
Influence
Lamar was influenced to be an entertainer and made people laugh by his family. One particular
he was most influenced by was his cousin Tommy Stephenson as he is an amateur comedian.
Lamar borrowed some of his cousin's style and phrases but put it in his own twist and style.
As a Teenager Lamar was getting more polished as he grew even more funnier and entertaining
in High School.
Dancing
Lamar engaged in intense roasted battles at the lunch tables of his high school of Woodford County High School. Where some battle's turnout to physical altercations. Lamar
loved doing the latest dances with his best friends Ryan Dale, Cameron Kennedy, Stephon
Warren and was often the life of any party when Lamar was dancing.
Football
Lamar didn't always want to be an entertainer all his life he also wanted to be a football star. In
high school Lamar played football all 4 years for the Woodford County Yellow Jackets. Where he
started Running Back his Junior and Senior year. He averaged 8 yards a carry and 15
Touchdowns in his High school career. But an unfortunate right thigh contusion injury happened
to him that eventually ended his dreams of playing for a college and ending his career.
Lamar on how he got his stage name:
"Well, my auntie (Laverne Raglin Carter) Called me
Mar Mar once and I was like hmmm I liked that. I'm going to used that so I put entertainer at the
end of it since I be entertaining"
Social media
Lamar on how he got his followers on social media platforms:
"Well, I used to do a clothing
modeling gig back in 2014 that didn't pan out and I was building my social media following for
that but I ended up rerouting and started making funny videos and gaining a little bit of
popularity overtime."
Lamar on how valuable social media is:
Yeah I'm tired of doing these videos for free
(Laughing) I saw other social media public figures make it and I'm like man… I'm just as funny
and entertaining as him or her. I can do the same thing and they're getting money for it so yeah
I'm trying to capitalize getting that money myself, I'll get my time to shine eventually."
Follow Lamar (Marmarentertainer) on Tik Tok and Instagram
Instagram: https://www.instagram.com/MarMarEntertainer/
Tik Tok: https://www.tiktok.com/@marmarentertainer