N'dia Moné Battle, famously known as N'dia Moné, is a 17 year old musical artist and songwriter from Maryland. She was born in November 11, 2003 in Salem, New Jersey and also raised in there. Her real name is N'dia Moné Battle. She is basically known as N'dia Moné. She is also a renowned influencer who has 22,000 subscribers on tiktok and 12,000 subscribers on Instagram thanks to her presence on social networks over the months. Behind her success and achievement, there is a great contribution of her family members. She said one of her interviews that, "My biggest Influences are my sisters, mom and my grandmother. They're the strongest women I know. The struggles they've faced motivates me to become better so that I can supply them with a life they deserve."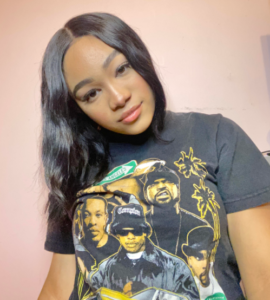 Growing up
From her childhood, she had passion for music and art. From early life, she learned to improve her musical skills and improve her vocal performance. She has been featured in America's Got Talent and The Voice.
Journey
She has been singing professionally since the age of about 10. On January 23, 2021, N'dia Moné released their first single "BWD", an R&B track that is all about self-love and getting the love you deserve.
In next 5 years, N'dia Moné would like to see herself hopefully making music and more great music. She wants to make people feel things through her music. Nothing can makes her happier than when she gets done performing and someone tells her the music made them emotional or brought them back to memories. She said what is in her heart. "If I've influenced at least 1 person from my music then I'm satisfied with that. I want people to feel as though they can dance to my music, cry to my music and relate to my music. If they've felt it that's all that matters."
That's why people love her performance and she has a great number of fan base because of her good heart.