Beginning
Aaron Sansoni is a successful Australian entrepreneur, global business mentor, investor, best selling author, and motivational speaker. Aaron Sansoni was born on April 14, 1984 in Melbourne, Australia and grew up as one of three children in an underprivileged family, as his parents divorced within two years of his birth. Sansoni completed high school from Maroondah Secondary College, East Melbourne and graduated in 2001.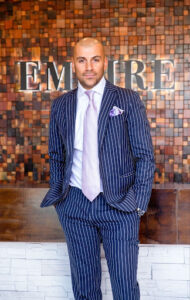 Sports
During his student days, Sansoni became an accomplished cross-country runner, competing at the state level. He also excelled in competitive basketball at the highest level and went on to play professionally in Ireland for one season in the National League in 2005.
Entrepreneurial Journey
Sansoni started his entrepreneurial spark by being inspired by his father, and by the age of 17, Sansoni applied his skills to sales, working in door-to-door, phone and face-to-face sales. His already substantial corporate sales experience and several years of running his own business led him to open his first consulting firm at the age of 23, with the goal of imparting to others what he was learning on his own journey in life and business. As a result, Sansoni built his first seven-figure media business by his mid-twenties. Since then he has started, built, or invested in over 100 companies as well as pursued many interests and passions, finding success in building his venture capital firm (sansoni.com).
aaronsansoni.com 
In addition to his own work, Sansoni paved the way for other entrepreneurs to follow in his footsteps by building one of Australia's largest education businesses (aaronsansoni.com). To date, Sansoni has served over 500,000 students from 137 countries.
Charity
Sansoni's family foundation (aaronsansonifoundation.org) has helped feed more than 250,000 people, raises money for hospitals and sick children, and empowers youth through life education to help them grow and become self-reliant.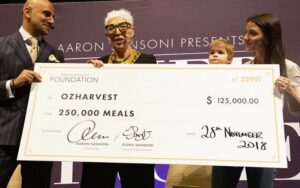 Sansoni Management and Business
Sansoni currently runs a successful investment firm called Sansoni Management and manages a portfolio across the globe with investments in technology, media, education, retail, hospitality, SAAS, telecommunications, and SpaceX, among others. Aaron Sansoni Group, Sansoni's education business, also offers live experience and on-demand training programs aimed at starting, building, and scaling businesses. While traveling the world, he teaches business owners and entrepreneurs through various programs on how to build their own business empires.
International Recognition
Sansoni mentors athletes, top CEOs and celebrities of all levels in his award-winning education program. He currently offers exclusive 1-to-1 mentorships and business partnerships with a very small number of people who are selected through a rigorous vetting process. He was nominated for Australian of the Year and Entrepreneur of the Year for his outstanding work globally, and his work has been featured in Forbes, Entrepreneur, Success Magazine and many other publications. He has a net worth of $65 million, and besides being successful in business, he has written some popular books and has achieved the status of best selling author.
Books
Notable books are:
101 Ways to Get More Customers Online and Offline for Under $100 (2012)

Think Like: An Insight Into How 21 of the World's Top 21st Century Business Leaders Think & Win (2016)
Awards
EY Entrepreneur of Year Nominee (2016)

2017 Australian of Year Nominee (2017)

Voted Top 125 Global Leaders – Success Magazine (2022)
Conclusion
Aaron Sansoni grew up in an underprivileged family, but due to his hard work, effort and positive thinking, he has become a successful person known all over the world as an entrepreneur, investor, best selling author, and motivational speaker.