Sofia Saidi is a Moroccan model winner of Miss Arab World Next Top Model 2019 and 2020 who was born in 16 December 1996 in Rabat, Morocco.
She then later moved to France, first to Brittany city, then settling in the city of Paris. She is the only beauty queen in the history of World Next Top Model that won the title twice consecutively. She is also a professional model and Instagram influencer.
Saidi worked as an apprentice as a Project Manager in the Thermal Industry at EDF France, managing the project of the construction of the Palmeira Powerplant in Cape Verde with her tutor Sebastien Girard. She then joined the company PSA as a project chief manager in the Automotive industry before deciding to join the company Interned as a project chief consultant and to establish her own consulting firm in France.
World Next Top Model
She started her journey from 2019. In June 2019, Saidi joined World Next Top Model on MTV. She decided to take her career seriously when she realized how much she enjoyed being photographed and to be part of new projects every time.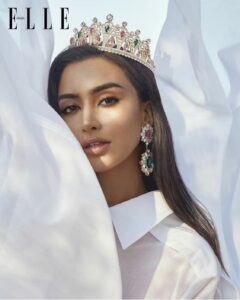 Her first and only beauty pageant contest she participated was in 2019. It was called World Next Top Model in Beirut, Lebanon. She was contacted by the organization team a year in advance. In the beginning, she hesitated but considered that it could be a new fun experience and decided to participate. That is how her journey started.
Modelling
She began modeling at an early age and is now managed by Talent Model Management agency. She started her career in Paris and travelled to numerous Asian countries like Japan and South Korea and is one of the biggest influencer figures in the middle east.
is the Miss Arab World Next Top Model 2020/2021. Due to Covid 19 lockdowns , World Next Top Model decided to extend the title recognition for the year 2020.